An advanced aspect of Valuegenie's portfolio of Customer Value Creation activities is co-creation, where companies and their customers fully collaborate, with the customer as an internal resource or asset, to the benefit of both parties. This is achieved through specialist co-creation platforms that we build and manage for clients, supported, where appropriate, by new AI designed to support and enhance employee interactions.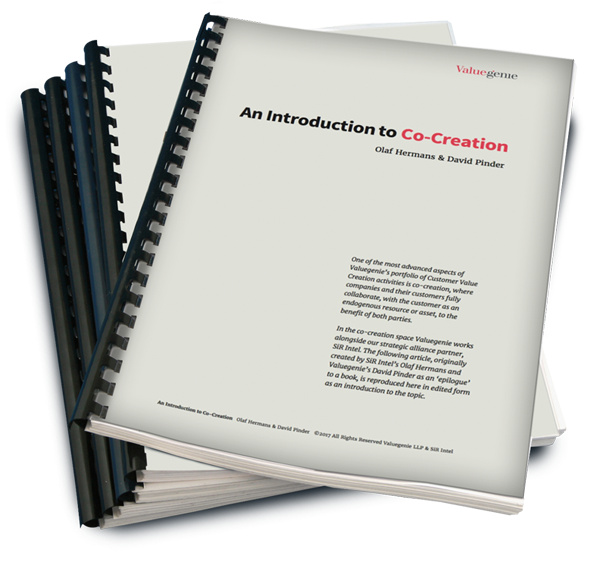 Valuegenie's David Pinder teamed with SiR Intel's Olaf Hermans to write an 'epilogue' to a book titled The 7 Principles of Complete Co-creation, by Stefanie Jansen ans Maarten Pieters (publication date 30 November 2017).
The chapter makes the point that the key difference between co-creation and other useful forms of customer or user-focused actions (service design, focus groups and voice-of-customer programs, for example) is that the value outcomes of these initiatives are different, both for the customer and for the organization. Customer co-creation is built on relational premises (providing value in relationship with the customer), whereas most other forms of customer interaction support the traditional exchange or delivery paradigm (providing value for the 'entitled' customer).
The value that customers derive from being heard and understood, is quite different from the value that customers derive from being in a relationship and having contributed. Increasing customer value does not always mean that organizations need to work harder and customers want to pay less. Involved customers, often those in an ongoing relationship, see value in having the best of an organization or even in working with the organization to create the best. Customer centricity now demands continuous dialogue with customers and organizing together for their preferred type of value.
Co-creation strategies, methods and technologies are moving co-creation beyond being a form of crowdsourcing that allows the co-development of solutions, products or services for groups and the individuals in those groups. We identify three key (r)evolutions that we see emerging in the co-creation domain.
To receive your free copy of the epilogue, simply contact us using the details below.
Valuegenie is the answer to the perennial challenge for businesses – how to attract and retain customers?
Contact [email protected] or [email protected]  to request your free copy of An Introduction to Co-Creation for business..